Welcome to The Gospel Pin, where you can find Evangelism Tools to share your faith in Christ. If you are trying to locate evangelistic tools to share Christ with friends, family or acquaintances then you have come to the right place.

How Evangelism Tools can help you Share The Good News

Evangelism tools can make an opening for us to share our faith. We can watch people's reaction as we show them the truth of God, and see if they are open to listen to spiritual things.

Evangelism Tools give them a visual presentation that God will continue to use well after you have left them.

Using an Evangelism tool will help if you are too timid to speak to someone about the things of God.

An Evangelism tool will help you present the Gospel in an understandable way.

Evangelism tools will also help prompt your memory of the right verses at the right time to effectively communicate the Good News.

The Apostle Paul said, "I might by any means save some." I'm sure that if Paul had access to the Evangelism Tools that we have access to, he would carry his convictions to the full.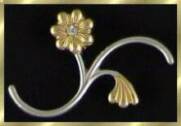 Gospel Pin High Fashion Christian Jewelry as seen on QVC.
The Gospel Pin (R), a unique evangelsim tool is available in your choice of Crystal Birthstones. This piece is gold and silver electroplated high fashion jewelry. It measures 1 1/4" H x 1 3/4" W. This beautiful evangelism tool comes gift boxed with an illustrated Gospel Pin(R) Story Bookmark Keepsake. If Birthday is unknown choose the April stone, as it is clear and exactly how the piece was originally sold on QVC.
$19.95 Choice of Birthstone - High Fashion Jewelry Pin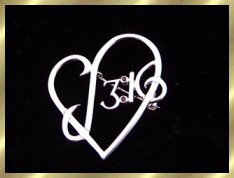 John 3:16 - 925 Sterling Silver Heart Pin with Rubies
This beautifully designed evangelism tool is so stunning, everyone will be asking you about it. What an opportunity to Evangelize with John 3:16 and tell someone just how much God loves the world. That He gave His own begotten Son, Jesus to die on Calvary for our sins. The rubies remind us of His blood shed there that remarkable day over 2000 years ago. Dimensions of this pin are 1 2/8" W x 1 3/8" High. Comes gift boxed with beautifully illustrated Scripture card.
$17.47